Cardinal Logistics...
Dedicated Vehicles for Roadmark Fleet Advertising!
Cardinal Logistics is more than just a transportation company. Cardinal offers comprehensive transportation solutions. As part of Cardinal's transportation network, Cardinal provides "dedicated route service" with a large inventory of tractor trailers which operate in defined markets (ideally suited for mobile advertising displays).

Our fleet consists of local delivery trailers and regional contract route vehicles which offer verifiable and accountable performance as mobile billboards (in addition to, and separate from, random contract services). We can deliver your product and message, all in one load in the heart of America's most populated cities.
Cardinal Logistics has contracted Roadmark, Inc. to manage client advertising on these vehicles. Cardinal is committed to offer its dedicated fleet for advertisers to use as targeted out-of-home advertising, effectively and economically, in partnership with client objectives.
We welcome and encourage you to use Cardinal's fleet network to your best advantage. Cardinal Delivers!

Cardinal Infrastructure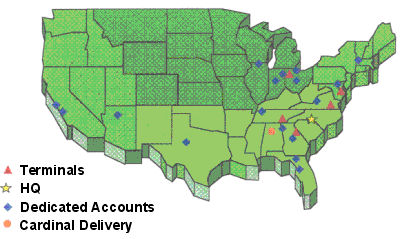 Truckload Service Area