Press Release July 24, 2003
(Scottsdale, AZ)
Barr-Nunn Transportation And The United States Marine Corps Team Up with Trailer Advertising

GRANGER, IOWA - On any given day up to 180 million drivers take to the 4 million miles of roads, avenues and interstates spread across the United States. So why did the United States Marine Corps approach Barr-Nunn Transportation to spearhead their "1,000 Trucks" marketing campaign? "Several of Barr-Nunn's top executives are former Marines, so we all wanted that partnership to work," said Captain C. Derek Campbell, Marketing Operations Officer, Marine Corps Recruiting Command. "Basically, what we're trying to do is bring about public awareness about the Marine Corps. Barr-Nunn is helping us carry that message."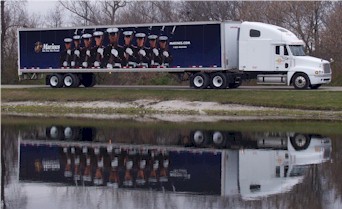 The program is designed to provide the Marine Corps a low cost alternative to standard billboards that will extend the reach of the recruiting message. The program wraps three sides of the Barr-Nunn trailers and is already having an impact. "The other truckers going by honk their horns and give me a thumbs-up! A lot of them are former Marines, I hear it over the C.B. radio," said John Peterman, a driver with Barr-Nunn. "Drivers will pass me on one side, then slow down and pass on the other side just to see the whole truck." "We're very excited about the program," said Retired Marine Corps Gunnery Sergeant and Barr-Nunn Recruiting Director Doug Albrecht. "There are a number of similarities between the way the Marines operate and the way Barr-Nunn operates. Integrity, dedication, and hard work...they are all words that both organizations take very seriously. Bob Sturgeon, (Barr-Nunn President & CEO) takes a lot of pride in his Marine Corps background, and obviously in our organization, so this was a natural fit."Peterman summed up the feelings of a lot of people. "I'm not a Marine, I was in the Air Force, but to haul this trailer gives me a lot of pride, it feels great, it feels patriotic."
For more information on Barr-Nunn or the 1,000 Trucks campaign, call Barr-Nunn Recruiting toll free at 888-999-7576.