| | | |
| --- | --- | --- |
| Roadmark represents Greyhound and Trailways Bus Lines (nationally) for Theme Bus advertising. Both programs are offered in a similar manner as Peter Pan Bus Lines with variations in rates, terms and conditions. Greyhound circulation is regionalized, Trailways can be placed by individual bus company's service area. For more information, please inquire. | | |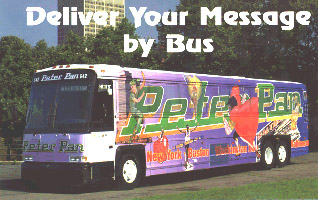 Peter Pan Rolling Billboards
Use Peter Pan buses as Mobile Billboards in America's most populated region (Boston to Washington, DC / Boston to Toronto).
Reach 25,000,000 consumers annually for as little as $1 .90 per thousand impressions (CPM)
240 buses travel 190 daily routes over congested highways and city streets, serving all the major cities in the Northeast corridor.
Mural vinyl graphics cover the entire surface of the bus (sides, rear, windows and moldings).
Expose 4,000,000 passengers a year with program "enhancements" (ticket stub coupons, route schedule ads, terminal signs, in-bus sampling, in-bus video).
Select preferred routing of your theme bus within Peter Pan's service area, by segment or system wide.
Use bold, dynamic graphics and ad copy to impact viewers with the pronounced advantages of mobility, size and motion.
Peter Pan Bus Lines is America's #1 privately owned bus company. Rely on us to help you plan a successful advertising campaign. We also sub-contract for Greyhound, nationally.

About Peter Pan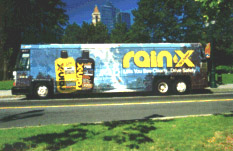 Peter Pan Bus Lines is America's #1 privately owned bus company, headquartered in Springfield, Massachusetts. Peter Pan operates 240 buses (190 daily routes) serving over 100 cities including: Boston, Worcester, and Springfield, MA, Hartford and New Haven, CT, New York City, Philadelphia, PA, Baltimore, MD and Washington, DC. Their service area saturates America's most populated region, the Northeast corridor.
Peter Pan buses travel over 14 million miles a year, serving over 4 million passengers annually, 1.6 million of which consist of students attending Northeast colleges. Separately, Peter Pan Tours book over 10,000 charter trips annually in addition to regular route service. Peter Pan has received the Department of Transportation's highest safety rating.
Most important to each advertiser, Peter Pan's management staff pays close, personal attention to detail, assuring each client's maximum opportunities for successful advertising campaigns.

About Mural Bus Graphics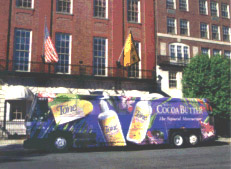 Recent innovations in graphic technology have made "mural theme bus advertising" extremely popular and competitively affordable for companies who want to "take their show on the road." Simply create bold, exciting artwork to the proper scale of the bus dimensions and supply your artwork to one of our recommended production companies. They will output full sheet reproduction on 3M vehicle vinyls and apply the graphics to the entire surface (sides, rear, windows and moldings) of the bus(s). Special window graphic materials allow you to extend your message over the bus windows without obstructing passengers' view from inside. Bus graphics are guaranteed for up to two years and are inspected daily.

How To Plan Your Campaign

Determine how many buses you intend to contract and the number of months required to accomplish your goals. Select segments of Peter Pan's route system which will give you preferred market circulation or system wide exposure.
Roadmark will initiate a contract, outlining the terms and conditions of your campaign. We will help you coordinate your graphic production and the application of your graphics on select vehicles.
Advertising "space" is billed monthly by Roadmark. Production and application terms are set forth by production and/or application companies, quoted in advance.

Program Enhancements
In addition to the pronounced advantages you receive from mobility, size and motion of your "rolling billboard," Peter Pan offers these "Program Enhancements" for nominal fees: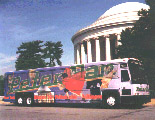 Ticket Stub Couponing
In-Terminal Display Ads
System Timetable Display Ads
In-Bus Coupon/Sampling
In-Bus Video (190 routes)
Reserve your Bus for Corporate Events
Determine which "enhancements" would be useful and we will design a program to suit your needs and budget.

Statistics/Reach/Demographics
Peter Pan Theme Bus:
25,000,000 Annual Impressions
$2.44 CPM-Annual Single Unit Rate-NETA

COMPARISONS
(Source: Greyhound/TRG Projections/LIAN Media)

| | |
| --- | --- |
| 30 sec. Network TV | 5.95 CPM |
| Four Color Magazine | 10.68 CPM |
| Full Page Newspaper | 29.51 CPM |
| 30 Sheet Posters | 1 .34 CPM (Avge) |
| Painted Bulletins | 2.00 CPM (Variable) |
IMPACT RATINGS
(Source: Thibodeaux Research)

| | |
| --- | --- |
| Mobile Media (most similar to Peter Pan) | 57.59% |
| Second Generation GFX | 46.88% |
| Panoramic Outdoor | 56.74% |
| Classic Outdoor | 44.90% |
| All Outdoor Combined | 50.82% |
ATA and TAB estimate -"140,000 miles yr. =14,200,000 impressions" . Peter Pan ranks considerably higher due to populated urban routing.
Beverage World Magazine -"75% consumers buying habits effected by mobile ads"

Statistical Methodology
Mural Theme Bus advertising is unique and non traditional media. Because every vehicular fleet has its own personality (method of operation) there is no statistical data "standard' to the industry. You must conduct studies on the specific vehicles you intend to use.
Our "methodology" consists of viewing data compiled from various studies conducted based on (1) percentage of travel each vehicle spends on particular types of roadway, (2) viewings per minute/per hour, and viewings per mile. Our findings are then factored by 70% for margin of error. Our projections are consistent with various documented studies, available upon request.

Rates/Terms/Conditions
SPACE RATES-PER MONTH
(includes graphic removal cost)
| | | |
| --- | --- | --- |
| Single Unit | 6 month minimum | $4800 |
| Single Unit | 12 months | $4200 |
| Single Unit | 24 months | $3600 |
| Quantity Discounts: | 5% | 2-5 vehicles |
| | 10% | 6-10 vehicles |
| | 15% | 11-up vehicles |

PRODUCTION/APPLICATION RATES
(Variable)

Mural Theme Bus production and application fees are based on square footage calculations. Each client graphic is custom quoted. Half-wraps and full-wraps vary in cost. Multiple bus graphics may reduce your unit cost if artwork is consistent.
Production and application rates range from $5,000 to $8,000 per unit.
Customized programs will be considered and quoted based on requirements.
(Quotes available upon request, based on proposed artwork.)


Roadmark Summary
Roadmark is pleased to introduce the Peter Pan Mural Theme Bus Program to our prestigious list of advertising programs.
Beyond the information contained here, it is important to note that both Peter Pan staff and Roadmark strive to build relationships with each and every valued client. Some call it "customer service." We call it "'attention to detail."
Rely on us, and our experience, to make your advertising campaign a successful and prosperous venture.

Peter Pan System Map