Industry Terminology (Lingo)
Road-ready expenses: All of the associated expenses to get your mobile display (vehicle) ready to "hit the road"; graphic design, print production (decal or soft vinyl materials), flex-frame hardware (if applicable), installation (and removal) expenses and GPS associated costs (if required). In other words; all preparation expenses.
"Space" rental: Monthly fees we charge you for your advertising space on our vehicles; sign space or graphic image area (street side, curb side, rear, full-wrap or sectional graphics). Trucks and wrapped buses are offered "exclusive" to one advertiser per vehicle (no other advertiser will share your "space").
Saturation area: The geographic "radius" (or routing definition area) where your advertising will be viewed by consumers from our vehicle dispatch locations/terminals; (cities, towns, states or regions; including specific routes, destinations and preferences you specify matched up to our vehicle "mode of operation"/circulation abilities).
Program enhancements: Any special accommodations we can offer you in association with your advertising buy.
Recommended vendors; Sources we encourage or require you to use "intended" to make your campaign economical, effective and consistent with our fleet requirements and your objectives.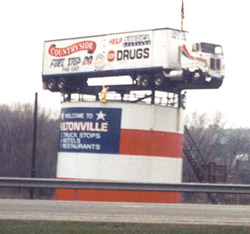 Yes...We have a better billboard! It goes "where you want it to go!"
Accountability - Verifying / Tracking The 'Delivery' of Your Advertising
Our program(s) offer you several means to be confident that your advertising will be, is being or has been "delivered" . . . to your expectations.
1) Advance knowledge: When you specify the circulation you want, we know in advance if we can deliver (based on our knowledge of where our equipment is dispatched to). We send your outfitted vehicle to the "saturation area" you have requested; coordinated by 'load trips' (loading dock to geographic destinations in the cities and towns you specified).
2) On-Board or GPS Tracking: Fleet operators must keep track of their vehicles (for their own purposes, ICC regulations or for customer delivery validations). Manual or computerized dispatch logs, on-board tracking systems or GPS systems provide a variety of useful mechanisms for you to obtain 'performance validation' about the delivery of your advertising displays.
Some of these validating mechanisms are available to you for free simply because we have the data readily available to us in the course of daily operations. More sophisticated reports (real-time locator maps, route time and travel data, load destination plotting, etc.), can be arranged for (at your expense) if you want (or need) such information as "added assurance" or for "marketing purposes."
Gaining your confidence is important to us. Delivering your message(s) accurately is critical for both your success . . . and ours.
---
For those who require vehicle circulation Proof of Performance data...
Track Your Advertising Vehicle's Circulation
With A Roadmark VTU (Vehicle Tracking Unit)
We have portable GPS units we can place on-board!
Appraise Your Own Vehicle's Viewer Impressions Data
As you track your advertising vehicle, plug in its arterial setting data each hour into our Viewer Impressions Formula *(located at the very top of our Home Page). You (or we) can appraise YOUR OWN daily or monthly viewer impressions data for any vehicle using this system... right from your own PC.
---
Trailer Truck Rates

SPACE RATES (non-validated program)